Seeing more of Upstate New York's beauty - and how Ellenville celebrates the season
26.04.2022
Monday October 15, 2012...
After breakfast in the hotel lobby (more waffles! And I loved that blueberry jelly...) we headed off in the direction of places with names like Damascus, Deposit and Hancock... all close to the Pennsylvania border.
Up to this point we'd been travelling with a veritable millstone around our necks. We had the commitment to be at Watkins Glen on the Friday afternoon, but we had to go all those places we'd been on the way. We had actually hoped to spend more time just touring in upstate New York but the delays leaving Indiana had prevented this.
Now we had no serious timetable apart from being at Las Vegas in time for the SEMA show... plenty of time, really. And with a Canadian friend of ours at home having waxed lyrical about New York in the fall we were going to just spend two days travelling in a veritable circle of mostly secondary roads back from Binghamton towards Poughkeepsie, up to Catskill and then parallel to the Interstate from Albany to Niagara Falls. Not on the Interstate, however, as that's a toll road. And the minor roads would give us a closer look at the surroundings.
As it turns out, we didn't take so many pictures on this day. We were on Route 17 as far as Liberty, then after that we slipped onto Route 52 through Ellenville: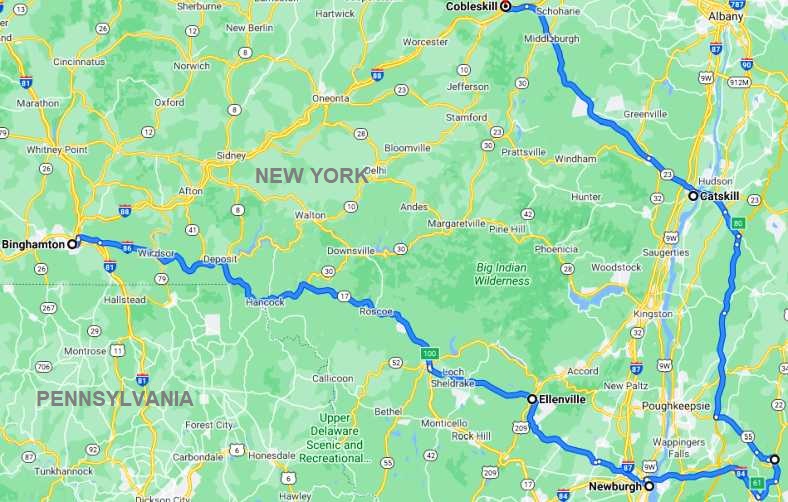 After breakfast we drove south, the scenery on the way was breathaking, the road climbed through mountains opening up onto the most beautiful panorama. The trees lining the road were the most beautiful colours.
Something must have jogged me into photographic action there as I wanted to snap the appreciation this town showed for the fall colours. Through the town there were banners on the telegraph poles, here's a couple of them:
I'm sure you can see what I mean. From the centre of the town we climbed and as we looked down in the valley to the right we were delighted with these views:
The first looks back at Ellenville, the second progresses further up the valley, finally we see Spring Glen, the next little town along. I'd pulled off the road on this little lay by to take these shots...
So as you can see, there was plenty of colour around us and it was a real treat to drive along this road. Just a little further we snapped this one:
We got through there to Newburgh and crossed the river near there. We then turned north up the eastern side of the Hudson, somewhere or other we took this pic of a pretty creek scene:
Somewhere near Poughkeepsie, as I recall, we saw a sign for a garage sale and went in on a side road, they weren't keen to let us look around and then we spotted this house across the road from them:
Without time pressures we were taking it really easy and looking around at all sorts of things. But by the time we got to Catskill we realised we needed to make a bit of a break for it as darkness started to arrived and we headed across Route 142 to the I88, down it briefly to Cobleskill and took a room at the Super 8 there.
We are now on our way to Niagara Falls. We are staying tonight at Cobleskill, it is now 8:42 so I'm looking forward to a good night's sleep.
We'd been to Cobleskill on our way across to Watkins Glen, that would have been for fuel and that visit to Burger King. Now we were in a motel full of workers whose pickups filled the parking lot. On the second floor, of course, but we still found a parking spot where the truck could be backed up against a wall to keep the goods in the back safe for the night.
So even an easy day could turn into a night-time rush to get to somewhere appropriate to bunk down! At least Tuesday would be all in daylight as we headed for Niagara Falls, wouldn't it?